Presence of flower girls in your wedding can give a touch of innocence and charisma to your event. They can increase the beauty of your wedding photos. Feel free to choose someone among family and friends for this role. You have to select a girl between 4 and 9 years of age. She could be a beloved sister, a family friend, cousin or niece.
1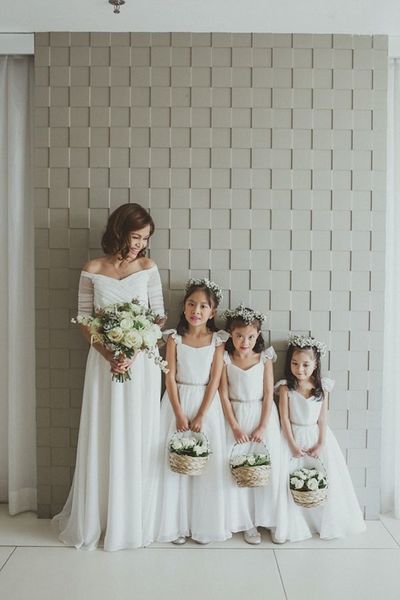 During your wedding ceremony, a flower girl follows the bridesmaids carrying flower bouquets or baskets. Sometimes, they scatter fresh petals to prepare the way for a bride. They have to follow the maid of honor who may carry a single bloom, confetti bubbles or flower balls. After selecting a flower girl, you have to buy comfortable flower girl dresses, shoes, and accessories.
Preparation for Flower Girls
You are responsible for preparing your flower girl for her role in the wedding. If she can read, give her a book about flower girls and weddings. It will help her to understand her position on your big day. One flower girl can become the center of attention. This situation can be disturbing for your little buddy. Try to prepare 2 to 3 flower girls to diffuse the situation.
Create an atmosphere of camaraderie among girls to decrease their tension. On your big day, you have to pay attention to the seating of flower girl's parents. Try to arrange seats on the aisle so that she can see her parents during your wedding ceremony.
Dresses of Flower Girls
There should be a variation in the dresses of flower girls, bridesmaid, and bride. You can choose white flower girl dresses in different styles for a white wedding. Buy comfortable dresses to let them walk easily. Consider the theme and style of the wedding before selecting a dress.
Bridal shops offer beautiful dresses for flower girls in different colors and styles. Consider the season while choosing her dress. Pay attention to the length of dress for her age. Most of the dresses are tea-length or floor-length. For younger girls, you will need tea-length dresses to decrease a tripping risk.
Choose Unique Things to Carry
If you want to change the trends of flower basket, try some creative and fun substitute to carry for your girl. For instance, pets look adorable and funny. Instead of giving them flower baskets, let them carry pets.
You can also replace petals with beautiful balloons. It will be a colorful treat for guests. Along with balloons, you can give them a photograph of some passed relatives.
Confetti is another choice for flower girls. While walking down the aisle, flower girls can burst your entrance with beautiful colors. To give a classic twist, you can provide colorful feathers to your girls. Some other options are seashells (especially for a beach wedding), coconut filled with candies or seashells, pinwheels, ribbon wands, leis, and a garland.
With older flower girls, you can try lantern or candles because they can handle the flame. For a safer side, feel free to pick flameless candles. For a boho affair, you will need twinkle lights in mason jars. These may give a magical effect at night weddings.